Canal Boat and Narrowboat Information Centre
Canal Boat and Narrowboat holidays.
Relax and explore the heart of the UK countryside on a modern hire boat, purpose built to provide you and your crew with the perfect traveling home and an idyllic holiday.

Buying New or Used canal boats and narrowboats.
Whether you want to buy a used boat, a brand new boat or commission a boat to built especially for you or as a shared owner, we can point you in the right direction for a perfect result.
Looking after your own canal boat or narrowboat.
Let us explain all the options here. We have marinas and boatyards right across the UK and are here to help you to look after, repair and moor your precious investment.
Boat Mart is your portal to the complete world of Canal Boats and Narrowboats.
Welcome to the secret world of the Inland Waterways of England, Scotland and Wales.
Boat Mart is a portal that gives you access to just about all you could want to know about buying, hiring or owning a canal boat or narrowboat on the UK inland waterways, rivers and canals.
What you get from Boat Mart
We can direct you to the best in Boat hire and the best value....
Boat sales, both used boats and new boats....
Boatbuilders and their agents....
RYA training facilities for the Inland waterway helmsman Certificate....
Marinas and Boatyards across the UK...
Shared Ownership operations and Boat Management companies.
In short we give you access to all you need to get started on a wonderful adventure afloat.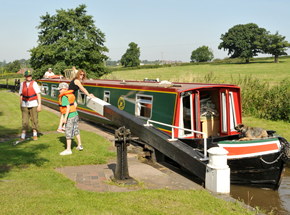 Use the tabs along the top of the page to navigate to the section you want for all you need to know about Canal Boating and Narrowboating.